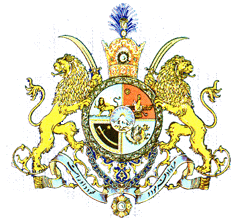 FOREIGN POLICY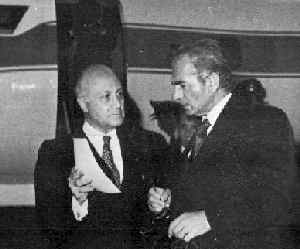 H.I.M. the Shah of Iran receiving reports from Foreign Minister Abbas Khalatbary.

Iran's foreign relations were conducted in accordance with what was called an "Independent National Policy", in keeping with the country's ancient tradition of tolerance and cooperation with all nations of good will. Above all we must remember that with the Cold War on, the international scene was different. from
This policy was summed up by the Shahanshah of Iran in the following terms: We seek peace, co-existence, and better understanding with other nations, whatever their ideologies may be; we will always support endeavours for the establishment and furtherance of social justice; we will assist efforts in bridging the gap between the rich and poor nations of the world; and will support any plans for international cooperation, campaigns against illiteracy, poverty, disease, and other contemporary social ills. These firm beliefs have been our guide in international situations, and have enabled us to defend the principles of right without hesitation or doubt."
This attitude explained Iran's strong support for the United Nations. Although the U.N.'s peace-keeping efforts were not always successful, Iran believed that there was no satisfactory alternative for the settlement of disputes between states when bilateral efforts failed. The Shahanshah also believed that "it was not in the national interest of any country to reduce the prestige of the United Nations, even if it entailed foregoing at times certain selfish national aspirations."
In an address at Harvard University in 1968, the King of Iran proposed the formation of an international organization "to be known by some such name as the Universal Welfare Legion, in which individuals irrespective of country, class, religion, sex, age, economic level or social status will render service. Their only common denominator would be the fact they should have decided to devote a part of their lives to the service of mankind." The idea was based on the success of Iran's own "Revolutionary Corps", which in a very short time had improved the health and welfare of Iran's less-developed rural population. In 1970 the formation of the U.N. Volunteer Corps, a body closely modelled on the Shahanshah's proposal, was announced.
Iran's foreign relations were conducted in a variety ot ways, among which was the personal diplomacy of the Shahanshah Aryamehr who was recognized as one of the world's experienced and far-sighted statesmen. His unique knowledge of the international scene and the implication of day-to-day political events, resulting from almost 40 years of personal contacts with world leaders, together with the personal prestige he had earned through his successful domestic policies, ensured that Iran's views were heard and respected everywhere. In addition to his own official and private visits to other countries, the Shahanshah received a constant stream of politicians, diplomats, businessmen and journalists representing every shade of social and political opinion.
The Ministry of Foreign Affairs, through its many foreign missions and representation on all major U.N. agencies, was diplomatically extremely active, and Iran had ample opportunities of expressing its views and hearing those of other nations through membership in a wide range of international oryanizations related to fields which concern Iran.
Among the U.N agencies and commissions of which Iran wss a member, is the Economic and Social Commission for Asia and the Pacific, which was dedicated to increasing the economic growth of 27 Asian countries by means of regional cooperation. The Asian Highway, linking Turkey with south-east Asia, is a major ESCAP project in which Iran has played a leading role.
In a field vital to its economy Iran cooperated with other major oil exporters in OPEC, the Organization of Petroleum Exporting Countries. In 1971, and again in 1973, Tehran was the scene for important conferences, at which the OPEC members at last ensured an equitable price for their oil. The significance of this is that for most of the OPEC countries oil is the main and in some cases the only economic resource, without which their chances of achieving economic take-off would be non-existent. Moreover, oil is a wasting asset and at current rates of production proven oil reserves only have a life-span of a few decades, in Iran's case only about 20 years. It was therefore essential for the OPEC countries to obtain a fair price for their oil resources while they last and use the revenues to diversify their economies and create alternative sources of income.
Iran was also a founding member of CENTO, a defensive alliance between Pakistan, Iran and Turkey, with Britain as a non-regional member and the United States in association. With the easing of the international tensions that led to its formation, CENTO became an important force for non-military regional cooperation, particularly in the field of manpower training and cornmunications.
Iran attached particular importance to the Regional Cooperation for Development (RCD), a tri-partite social and economic alliance linking Iran, Turkey, and Pakistan. RCD which came into being on July 21, 1964, following a summit conference held in Istanbul by the three respective Heads of State.
RCD resulted in the creation of a number of joint-venture industrial enterprises, while in social and cultural fields there were exchanges of scholars, journalists, sportsmen, sportswomen and youth organizations, for the purpose of acquainting the people of the three countries with their common cultural and social ties. Following a summit meeting in 1976 aimed at developing economic links between the three members, the Shahanshah Aryamehr stated 'the doors of RCD were wide open to all regional countries."
Afghanistan enjoyed a special relationship with Iran, based on the two countries' religious, linguistic and cultural background. In those years, trade with Afghanistan increased, and new agreements were reached between the two countries concerning transport, banking and agricultural projects.
Iran continued to have friendly but careful relations with the Soviet Union. The two countries, which have 2,640 kilometres of common land and sea borders, were implementing a series of joint projects, including exploitation of the hydroelectric resources of the Aras River which forms part of the north-west border, and of the fishery resources of the Caspian Sea. Other economic projects in which the two countries collaborated included the "Aryamehr Steel Complex" near Esfahan and the "Arak" machine-tool plant. Large quantities of Iranian natural gas were exported to the Soviet Union, and even larger quantities would have been sold to three West European countries through the Soviet Union in a complex arrangement described in the chapter on gas.
In the political field there were been frequent exchanges of visits between Iranian and Soviet leaders. At the end of the Shah's official visit to the Soviet Union in 1974 tbe two heads of state expressed their satisfaction at the successful cooperation between their countries in many fields and expressed their hopes that these links would continue to expand and strengthen.
After a long period of friction between the two countries, Iran and Iraq agreed to settle their differences at a meeting between the Shahanshah and the Deputy Chairman of Iraq's Revolution Command Council at an OPEC summit meeting held in Algiers in 1975, through the good offices of the Algerian President. A series of meetings were held during 1975 and 1976 culminating in the formal exchanges of border-demarcation and 42 security agreements which finally ended the frontier disputes. Iranian pilgrims resumed visits to the holy places of Iraq after a lapse of several years. In other fields too, relations between the two countries, which had age-old cultural and historic links, improved out of all recognition.
Iran also strengthened its ties with the Arab states to the south of the Persian Gulf. The vital importance of this body of water, not only to Iran and other littoral states, whose economic lifeline it is, but also to many Western and Third World countries whose energy requirements are shipped through the Persian Gulf, makes its security a matter of special concern.
Along with most of the littoral states, Iran believed that no outside power should be present in this area. The King had on several occasions declared Iran's willingness to cooperate with its southern neighbours "as closely as they want, from the closest alliance to the loosest form of collaboration." But Iran could not take any chances or place the freedom of navigation in the Persian Gulf at risk. In military terms and according to the King, this meant, that Iran "had decided to be so strong as to be able to secure the stability of the region, if necessary, alone. But we would prefer obviously to cooperate with all the other countries of the region on even and equal footing."
In the case of Oman, Iranian troops were involved in successfully putting down the Dhofar rebellion. This was accomplished at the invitation ot Sultan Qabus, at a time when no other country wished to assist this foreign-directed communist uprising with its dangerous implications for the security of the wbole region. Iranian troops left when peace was finally settled.
Looking beyond the Persian Gulf, Sea of Oman and the Arabian Sea area, Iran would have liked to see the whole Indian Ocean region become a zone of peace and economic cooperation, without the military or physical presence of the superpowers. Iran therefore co-sponsored a successful U.N. resolution calling for the Indian Ocean to be a zone of peace. In 1974, after a series of visits to south-east Asian and Australasian countries, the Shahanshah proposed the establishment of closer economic ties among all the Indian Ocean littoral countries, including those in East Africa. Iran continued to pursue this long-term idea, and in later years had strengthened bilateral relations with many of the countries concerned.
Relations with Saudi Arabia, the richest and most powerful of Iran's southern neighbours, were further enhanced by exchanges of visits between senior Government officials and royalty of the two countries, culminating in a successful official visit to Iran by King Khaled in May, 1976 The President of the United Arab Emirates likewise visited Iran in December, 1975, while other visits were exchanged with officials from Kuwait, Bahrain and Qatar.
Parallel with these friendly relations with neighbouring countries, Iran's links with the rest of the Arab world were strengthened considerably. Iran had also expressed its strong support for the rights of the Palestinian people and the evacuation of Arab lands occupied by Israel, and believed that Muslims, Jews and Christians should have equal opportunities to visit the Holy City of Jerusalem.
The Shahanshah was the first Head of State to condemn use of force for territorial acquisition. Following the June, 1967 war, Iran fully supported U.N. Security Council Resolutions 242 and 338 regarding Israeli withdrawal from occupied lands.
lrano-Egyptian relations did flouish ever since their Majesties the Shah and Empress Farah paid a State Visit to Cairo in 1975. There followed strong bilateral links in all political, economic, social and culural fields. The Egyptian President Anwar Sadat returned the visit soon afterwards, and ater that year Crown Prince Reza Pahlavi, (now exiled Reza Shah II) in his first official mission abroad, represented Iran at ceremonies to mark rhe re-opening of Suez Canal. Underlining the strength of Irano-Egyptian friendship was the fact that in June, 1976, the Egyptian President returned for a one-week visit at the invitation of the Shahanshah.. The joint-communique issued at the end of that visit called for the resumption of the Geneva peace talks, with the Palestine Liberation Organization included on an equal footing with all other interested parties, and emphasized that the peace and security in the Indian Ocean must be maintained by the littoral states.
A positive contribution to Middle East stability occured in 1975, when Iran co-sponsored a U.N. General Assembly resolution calling for the denuclearization of the Middle East. The Resolution was passed by almost unanimous majority, including positive votes by all members of the Security Council.
In addition to the Arab countries of North Africa there were resident or accredited Iranian ambassadors or charges d'affaires in Ethiopia, Gambia, Ghana, Guinea, Ivory Coast, Kenya, Lesotho, Ngwana, Niger, Nigeria, Senegal, Somalia, Sudan and Zaire. Political, economic and cultural links have also been established with a number of other African states, underlining Iran's desire to expand cooperation with Africa.
In the Far East and Pacific region, Iran also forged new and strong links. Diplomatic relations were maintained with almost all the independent countries of the region. These links were further strengthened by the official visits to several south-east Asian and Pacific countries by Their Majesties in 1974, during which the Shahanshah first proposed the strengthening of economic ties among all the countries bordering the Indian Ocean region. Japan was one of Iran's leading trade partners, with both imports from Japan and Japanese investment in lran running at very high levels and were likely to increase still further. Despite the great distance between the two countries, cultural relations were also very strong and a number of Japanese Students were enrolled at Iranian universities and vice versa.
In 1971 Iran recognized the People's Republic of China as the only legal government of China, and soon afterwards diplomatic relations were established. In 1972, Empress Farah paid an official visit to China and other high-ranking personalities have exchanged visits. In 1973 Iran Air inaugurated twice-weekly flights to Peking and Tokyo, which did much to further friendly relations between Iran and the two major Far East countries.
Iran enjoyed excellent relations with most European countries, both East anc West. The enlarged EEC was by far the largest supplier of Iran's import needs in 1974, selling some $4.5 billion worth of goods. In its regular contacts with the EEC countries, colIectively and individually, Iran made the point that there were serious inherent imbalance of trade between the EEC and Iran. As oil revenues would decline as inevitably they must, the EEC countries would have to adjust this balance by importing more finished products of Iranian industry, and Iran believed that a more serious start would have to be made in this direction.
Following the rise in oil prices in 1973-74, Iran concluded a number of loan and trade deals with European countries, particularly the United Kingdom, Italy and France. The U. K. received a $1.2 billion loan, France $2 billion, Italy signed a $3 billion agreement covering a steel mill, ship-building facilities, petrochemical and construction projects, mainly in south Iran, while a $7.8 billion deal with France covered atomic power stations, a metro system for Tehran, a car tactory, and other projects in the transportation, housing, metallurgical, petrochemical and agricultural fields.
Iran had long-standing cultural links with many European countries. This was emphasized by the large numbers of Iranian students in Europe. Europe was also the favourite foreign destination for Iranian holiday-makers. They did not visas for their travels.
With Canada and the United States, Iran always had very friendly relations. The United States supplied more Iranian imports than any other individual country, reaching over $2 billion annually. There were regular exchanges of visits between Iranian and U.S. political leaders. The Shahanshah held major talks in Washington with different U.S. presidents. Empress Farah also visited the United States and Canada officially, and delivered and number of im portant speeches at universities and think-tanks.
In the economic sphere Iran and the United States signed in 1975 what has been called the largest-ever single agreement between two countries. A $15 billion package, was to be implemented over a five-year period, and consisted of $5 billion in normal trade items, a similar amount for the sale of US. military equipment to Iran, and another $5 billion in U.S. involvement in the Iranian economy.