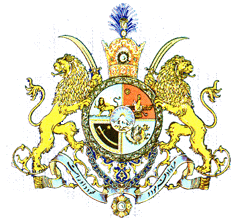 TRANSPORT

Because of its vast land area, harsh terrain, extremes of climate and low density of population, the construction and maintenance of an adequate communications networks has always beern difficult and expensive in Iran.
King Reza Shah fully realized the importance of a transport infrastructure in ensuring national unity and economic prosperity, and among his greatest achievements were the construction of the Trans Iranian Railway and the beginning of civil aviation in the country. Iran's main road network is still basically his creation, although much improved in the sixties and seventies. Ironically it was the existence of Iran's port, rail and road network that prompted the Anglo-Russian invasion of Iran in 1941, and gave the country its wartime name of "Bridge of Victory" over which vast quantities of Allied war materials were shipped to the Soviet Union.
But Iran's communication networik was inadequate for post-war development purposes. Iran's first four development plans (1948-73) all gave priority to expanding and improving the communications sector, and by the beginning of the Fifth Plan the sector could adequately meet the country's transportion needs.
The huge increase in imports that occurred in 1974 radically changed the picture, however. The southern port quickly became clogged, the railway system was strained to capacity an there were shortages of both truck and drivers to move urgently required goods from the principal points of entry to centres of consumption.
The Government immediately began a crash programme to eliminate these bottlenecks, by building new jetties and warehouses, importing trucks and drivers reducing import documentation and doubling working shifts. These measures were helped in cutting the backlog of ships waiting to unload.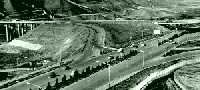 At the start of the Fifth Plan the main road network consisted of about 12,500 kilometres of asphalted road. In addition to completing 2,400 kilometres of Fourth Plan main road projects, work had started on 1 ,730 kilometres of motorway-class roads, (turnpikes) about a quarter of which were be completed by 1978., see image left. Fifth Plan main road projects consisted of 3,668 kilometres completed by 1978 and a further 3,830 kilometres of roads which would have been completed during the Sixth Plan. Serious attention was given to the construction of feeder which played an important part in rural land agricultural development, and by the end of the Fifth Plan the feeder road network amounted to 23,500 kilometres, about twice its size at the end of the Fourth Plan. Substantial credit were also being devoted to research and maintenance. Total Fifth Plan invest ent in road construction and maintenance projects amounted to 15 billion Rials ($2,260 million).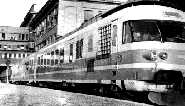 While some railway construction projects were in progress, improvements were constantly being made to the railways. The line from Tabri zto Jolfa on the border with the ex-Soviet Union were being electrified, a passenger station was being built at Esfahan and new rolling stock, including fast French turbo-trains, purchased and seen on the picture at left entering Tehran's station.. Since 1971 it was possible to travel by rail fror Europe through Turkey to Tehran an as far as Mashad in north-east Iran. It was planned to extend this line to Afghanistan, as well as to link Kerman to Zahedan, which was already connected to the Pakistan railway system. Another future rail project was to link Bandar Abbas with the existing Kerman-Esfahan line. In June 1976 it was announced that the Iranian State Railways, which was a Government affiliated organization, would be restructured as a joint stock company, in a move towards greater efficiency.
Iran was firmly established as the most important country in the region as far as air transport was concerned, with four international airports (Tehran Mehrabad, Abadan, Shiraz and Bandar Abbas) served by some two dozen airlines Despite major expansion in recent years, Mehrabad was considered too small to meet the capital's needs, and a project to build' a new international airport 50 kilometres to the south-west was being implemented. During the Fifth Plan period ,credits totalling S360 million were allocated to airport construction and expansion.

Air transport in Iran in fact dates back to the early 1930's, when Reza Shah established a national airline that ran passenger and mail services in Iran and to neighbouring countries, using "Dragon Rapides." World War II put an end to the development of civil aviation, but after the war two privately-owned airlines were established. In 1962 Iran National Airlines Corporation (Iran Air) was established, taking over the assets and liabilities of the two former companies, and operating as an independent state corporation. In the past 14 years Iran Air has grown extremely fast. Once the domestic network had been built up, the airline in 1965 acquired its first jet aircraft and began European services. Within two years the system stretched from Bombay to London and 17 countries were served. By 1977 the network stretches more than half way round the world, from New York to Tokyo (via Peking). A total of 36 foreign destinations were served, and there were 67 international flights a week.
In addition there were 164 flights a week to 19 domestic cities. In 1976 the airline inaugurated a new air route, Tehran Cairo-Paris-New York, the first schedule( flight to serve four continents, while its non-stop New York-Tehran flight was the longest such flight operated then by any airline.
Iran Air was the top 50 airline in the world, and grew faster than any other IATA member, particularly in the seventies, a period of stagnatiof for most international airlines. Passenger kilometres flown increased from 94 million in 1962 to 2,402 million in 1975 with an average annual growth-rate of over 21 per cent. The number of passenger carried in 1975 exceeded two million, against less than one million in 1972.
An important aspect of this growth was that it had been self-supporting and self-financing, not the result of Government subsidies or grants. Net profit more than doubled to $60 million in 1976 out of total revenues of $254 million while total assets exceeded $330 million. This had enabled the airline to modernize its fleet rapidly. Piston-engined aircraft were entirely phased out, and the fleet in 1976 consisted of 22 Boeings with all ranges and capacities, from the two engined 737 for domestic flights to th advanced 747 SP Jumbo for transcontinental flights. Iran Air also had option on two Concorde SST's, but was waiting t see whether the aircraft was economicall viable before placing firm orders. The airline's computer system was th most advanced in Iran, and certainly in the whole Middle East.
Increasing port capacity was a major consideration. At Bandar Shahpour 27 new berths were being built, raising the port's capacity to above 15 million tons with ordinary operations. Khorramshahr, the potential of which was more limited, would have had its capacity almost doubled to 2.3 million tons by the end of 1976, while in the south a completely new port was being built in a new industrial area near Bandar Abbas. The new completed port would have included a steel mill and dry docks.
The Caspian ports were not so important to the economy as those of the Persian Gulf, but Bandar Pahlavi, Nowshahr and Bandar Pahlavi were expanded to handle the increased flow of traffic from Europe and the Soviet Union, resulting from the opening of the Don-Volga canal. The Arya National Shipping Line, established in 1968, grew into a large and efficient organization. Its principal services were on the European and North American routes, as well as within the Persian Gulf and the Asian ports..